Christina recently tied the knot and welcomed a baby boy. While she's shared her past bachelorette pads in New York's Greenwich Village as well as her old San Francisco studio alcove bedroom, today she's taking us into the West Village rental apartment she shares with husband Thomas. Read on for Christina's approach to designing this space with her family's needs in mind.
Designing this space for my husband and myself, I started with the color palette. My previous bachelorette bedroom had been warm earthy pinks and browns. While my husband insisted he was ok with a pink bedroom(!), I wanted the room to feel more masculine and more of a reflection of us together than myself alone. We landed on Farrow & Ball's De Nimes for the walls, which is a green blue that can even read grey in certain lighting. I combined several shades of blue with neutral hues and the accent of this rich mustard mohair sofa from my previous living room. I love the cozy, yet sophisticated seating area this adds to our bedroom and it's a great spot for nursing our son, too.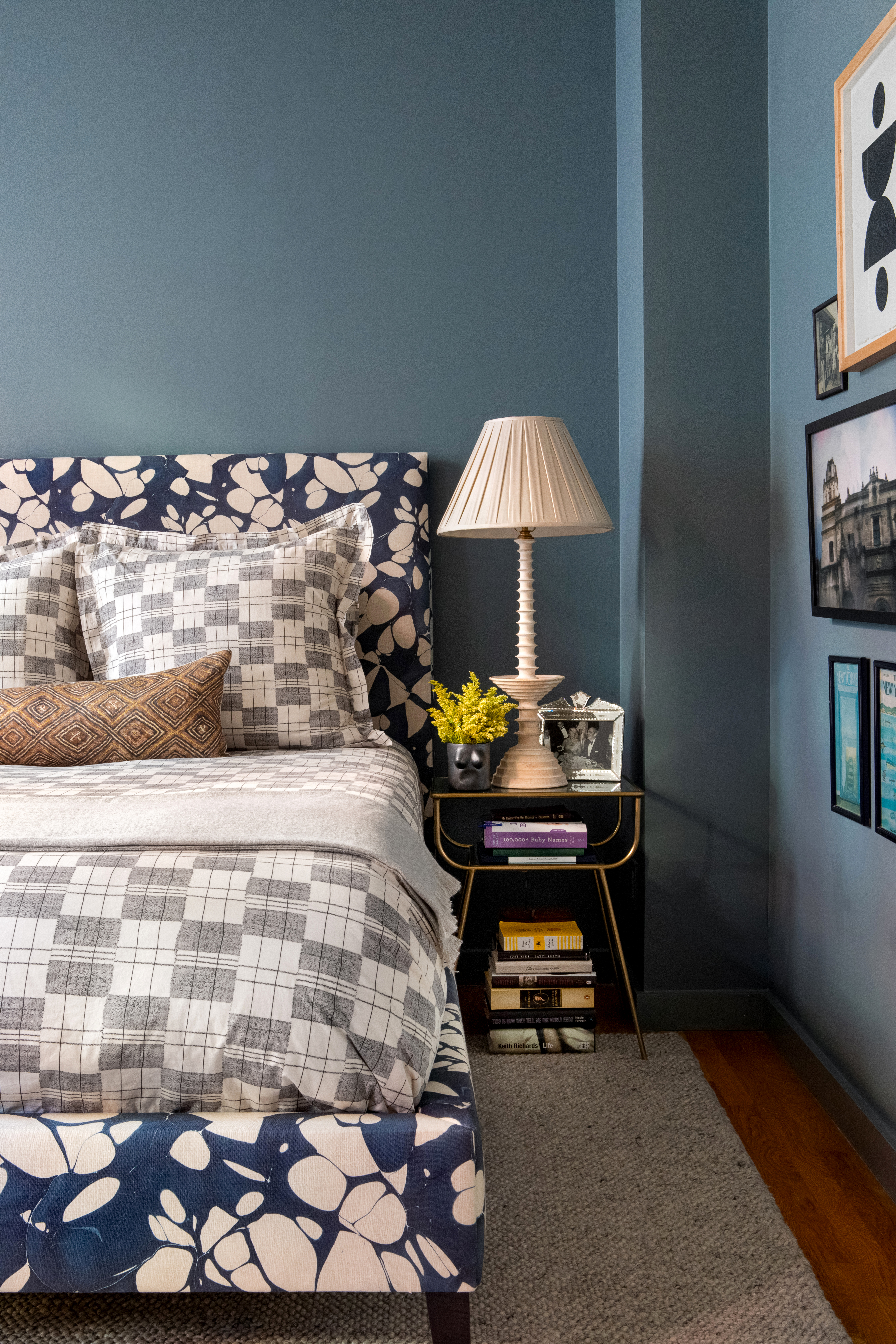 For the bed, I opted for a frame by Maiden Home (who will produce any of their silhouettes COM) and fabric from Rule of Three. I refined my typical bed styling to one long lumbar from St. Frank as a nod to my husband's request for fewer decorative pillows when making and unmaking the bed. We have sheets and duvet from St. Frank and rotate this Charcoal Mossi pattern with our Light Star Muong option, and more recently the Lalita Linen. My husband is 6'5" and we allow our dog to join us in bed, too, so his one request was for a king size bed with no footboard, which left little room for bedside tables in our New York rental bedroom. These pieces were in my husband's bachelor pad and it fit perfectly (though we do both have piles of bedside reading underneath!).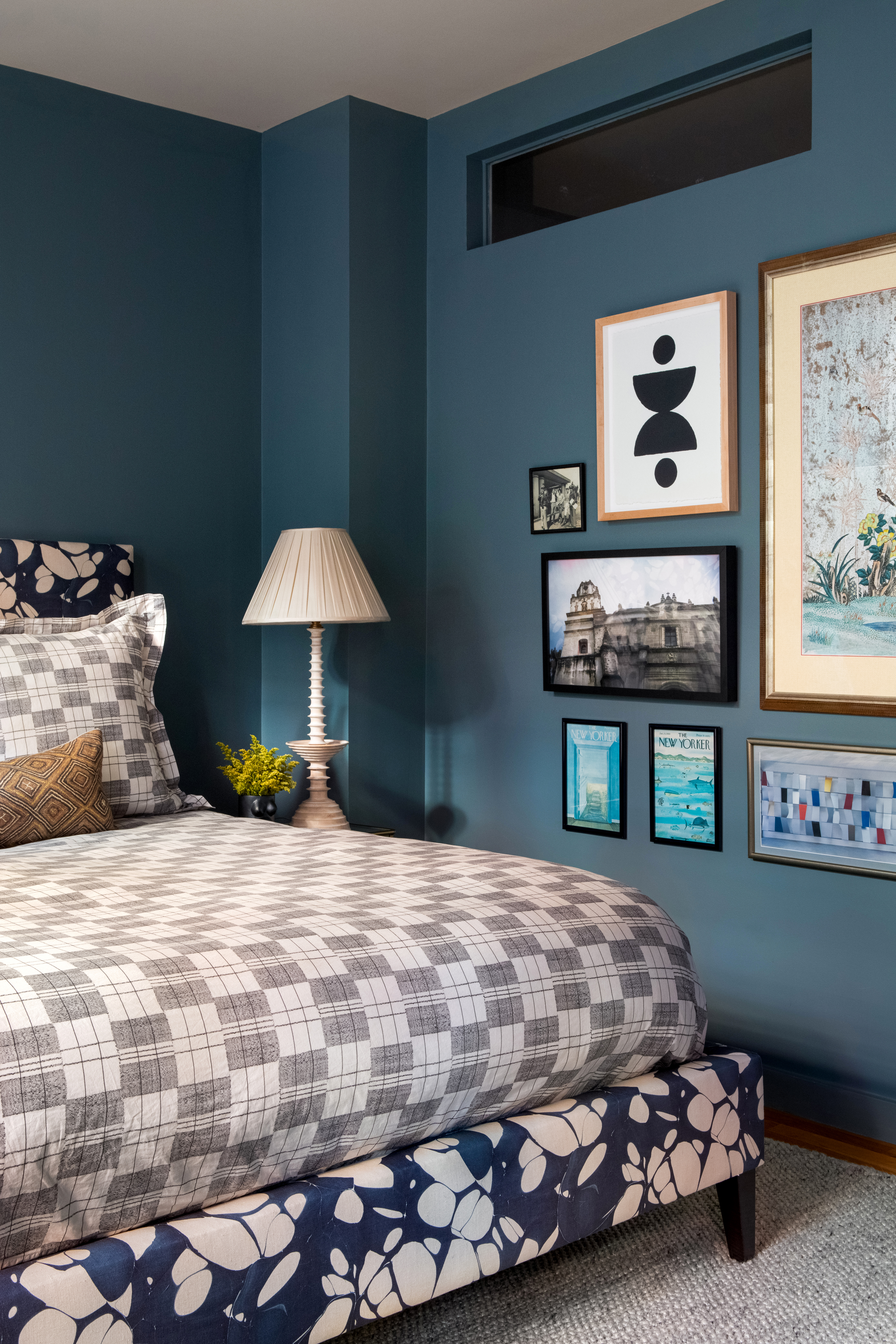 The gallery wall is very eclectic and ranges from a Mexico City church photo from St. Frank's collaboration with artist Robert Malmberg to Thomas' family photos, from vintage New Yorker covers to a signed Ellsworth Kelly print. The only uniting feature of this wall is the color palette of the room - blues, browns, blacks, and yellows. I love that this wall and another gallery wall in our hallway meld our framed pieces so seamlessly.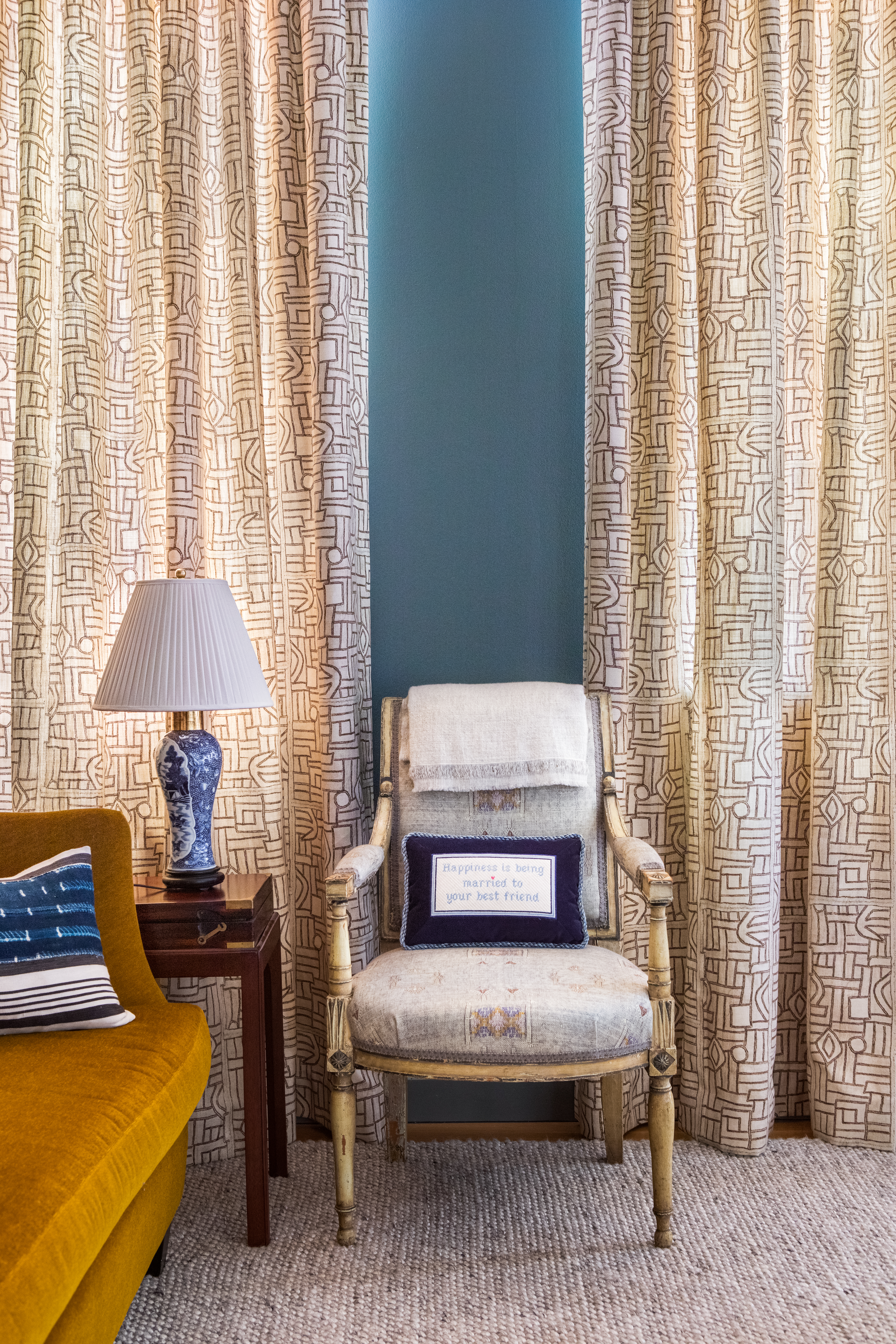 To me, window treatments are the eyebrows of a room; while often overlooked, they really frame and make or break the space! These curtains are in one of St. Frank's most versatile, neutral patterns - our Ecru Maze Kuba Cloth - and they both soften and dress up this room in the most decadent way. The antique side chair is finished in our Iris Cactus Silk fabric and topped with a handmade needlepoint pillow from one of our dear friends, Christie Houlihan, as a wedding gift.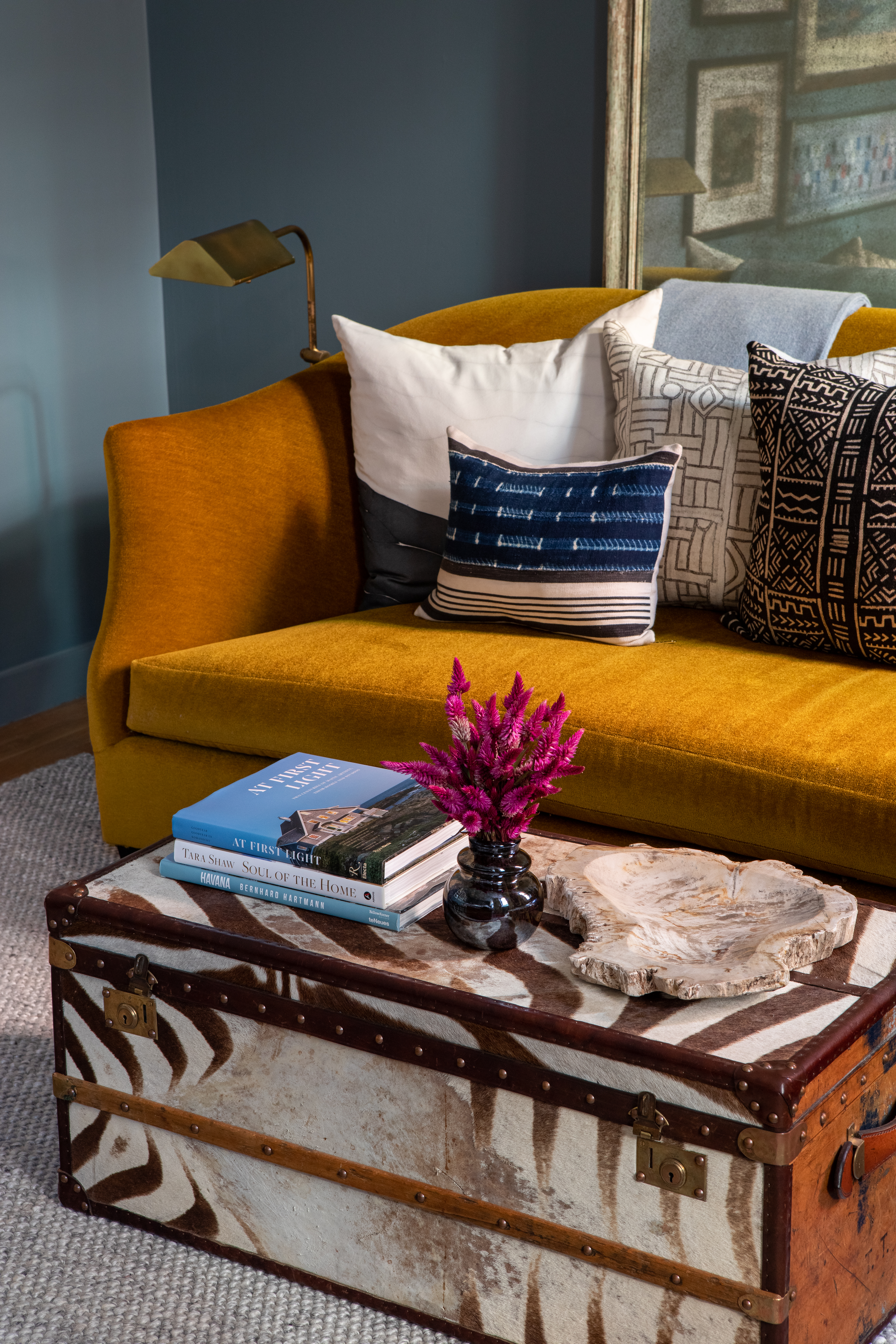 To me, a house (or rental apartment in our case) becomes a home when it's a curated collection of memories of its inhabitants. Mix and match pillows (including this piece and this piece, a short throw, an antique trunk, a piece of petrified wood, a handblown glass vase, the assortment of coffee table books that range from Maine (Thomas' favorite escape) to Havana, Cuba (mine); all of these items speak to our story.